Romania's new coalition wins parliamentary approval
Comments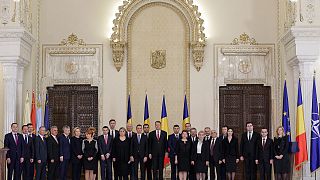 Romania's parliament has approved a new left-leaning coalition government in a vote of confidence ending weeks of uncertainty over who would lead the country.
The vote split was 295 to 133. The coalition has an outright majority following the Dec 11 election.
The Social Democrats (PSD) are back in power after a one year break on the promise of increasing government spending on healthcare and pensions. To deliver they need the help of junior coalition partner ALDE.
Looking forward to working with the new Romanian govt, just approved by parliament beneath this fine roof, in developing UK #Romania ties. pic.twitter.com/KEaSjQRqwk

— Paul Brummell (@PaulBrummell) January 4, 2017
The PSD were ousted in November 2015, after a deadly fire in a Bucharest nightclub led to nationwide protests over graft and slipshod public administration. In various alliances, it had governed for a total of about 17 years since the fall of communism in 1989.
On Wednesday (Jan 4) Sorin Grindeanu was named Romania's new prime minister.
"I wish for a normal Romania, where our youth no longer leave the country to earn a decent income for their families," the premier told parliament.
President, Klaus Iohannis, swore in the new cabinet urging them to strengthen Romania's judiciary in the face of widespread corruption and to shore up its foreign relations.
He said they must deliver what they promised in the electoral campaign. "To keep a clear, visible and declared Euro-Atlantic orientation," in other words strengthen Romania's position within NATO and the European Union.
Some Romanians have said they are concerned that the Social Democrats will rein in the country's successful anticorruption efforts. The appointment of Florin Iordache as justice minister did little to allay those fears. Iordache was involved in a 2013 effort to bolster immunity for politicians.
Party leader Liviu Dragnea is considered by many as the Social Democrat's real prime minister but he is barred from the post after a 2015 conviction for electoral fraud.
Though Dragnea will not hold any official role in the new cabinet, analysts expect that he will wield influence from behind the scenes.