British military seeks laser gun
Comments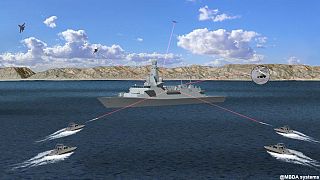 The UK's Ministry of Defence has awarded a £30m contract to a defence consortium to produce a prototype laser weapon.
The consortium's goal is to establish whether a directed-energy weapons (DEWs) would be useful during enemy combat operations.
BAE Systems, part of the "UK Dragonfire" consortium, has already created one of the most advanced defense aviation capabilities on the market, according to its website.
Britain reveals DRAGONFIRE: UK warships and tanks to be equipped with LASER cannons https://t.co/gC0obxND5npic.twitter.com/FwiP8fdUZc

— Daily Star (@Daily_Star) January 5, 2017
The project "draws on innovative research into high power lasers so as to understand the potential of the technology," according to Peter Cooper, from the UK's Defence Science and Technology Laboratory (DSTL), reported the BBC.
This could "provide a more effective response to the emerging threats that could be faced by UK armed forces," added Cooper.
"UK Dragonfire will achieve, through the Laser Directed Energy Weapons (DEW) Capability Demonstrator, a significant step change in the UK's capability in High Energy Laser Weapon Systems and will provide the basis for technology-driven operational advantage," according to a MBDA in a news release. "The programme will mature the key technologies for a high energy defensive laser weapon system and will include the engagement of representative targets in land and maritime environments in 2019. The programme will also provide the body of evidence for future procurement decisions."
MoD awards European defence firms Dragonfire consortium £30M contact to produce a prototype laser weapon https://t.co/5ItOQkFPONpic.twitter.com/kw9iAaNN9m

— NavyLookout (@NavyLookout) January 5, 2017
"UK Dragonfire is a collaborative consortium led MBDA with QinetiQ and Leonardo-Finmeccanica that has brought together the best of relevant UK industry expertise to deliver the highly challenging and complex programme. The team also capitalises on the strengths of the individual companies involved, which includes GKN, Arke, BAE Systems and Marshall ADG."
Meanwhile US companies and government agencies have at least 500 satellites — roughly as many as the rest of the world combined, Reuters reported. At least 100 of them are primarily military in nature. Most are for communication or surveillance. In other words, they're oriented downward, toward Earth.
US aerospace company Boeing has developed a portable laser weapons system capable of tracing and disabling an unmanned aerial vehicle (UAV).
Lockheed Martin has also developed a laser that can disable the engine of a small truck from more than a mile away.
Our experts share how we're bringing high-powered laser weapon systems to life: https://t.co/jRXT6ytDCtpic.twitter.com/wa3eJJlUpv

— Lockheed Martin (@LockheedMartin) December 2, 2016
"'Dragonfire' – the laser gun being developed for British forces" https://t.co/eDZhdjSNLz

— Dennis Plagge (@DennisP78) October 10, 2016