Businessman Moise confirmed as new president of Haiti
Comments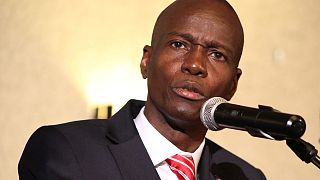 An electoral tribunal in Haiti has confirmed businessman Jovenel Moise as the country's new president.
Ruling on accusations of fraud made by rival candidates after elections in November, the panel said while there were irregularities in the polls there was no massive fraud and the electoral process had not been affected.
Je ne vais pas combattre la pauvreté, je vais créer de la richesse.- Jovenel Moïse #Haiti#Presidentpic.twitter.com/jjWqsXFec5

— Supportons Jovenel (@HaitiEnPremier) December 22, 2016
Moise, who won just over 55 percent of votes cast, is expected to be sworn in as president before early February.
The 48-year-old is a first-time candidate who beat more than 20 other rivals for the post of president.
He told supporters: "This presidential mandate of five years entrusts in me all the freedoms of the people, and as I said in my campaign the power comes from God, through the voice of the people."
Moise, who ran for ex-president Michel Martelly's PHTK party, has promised to tackle corruption in Haiti and bring about national unity.
Some rival groups had vowed never to accept his win in the election.
Moise won a ballot in October 2015 but that was scrapped over accusations of fraud.
The businessman now has the difficult task of propping up Haiti's economy and
overseeing reconstruction after a devastating earthquake and hurricane.
Jovenel Moïse defeated 26 rivals in the first round and avoided a runoff. He won more than 55 percent of the vote. https://t.co/cnD0D2EjYV

— Ralf S. Rho (@ralfrho) January 3, 2017
[PRESS STATEMENT] Haiti Provisional Electoral Council Publishes Final Presidential Election Results: https://t.co/RrUD7OJ1TUpic.twitter.com/qo8jF6s43J

— U.S. Embassy Haiti (@USEmbassyHaiti) January 4, 2017
Haïti : Jovenel Moïse confirmé président de la République https://t.co/YBHd8LCw4h

— Le Monde (@lemondefr) January 3, 2017
At PHTKhaiti</a> press conference for Jovenel Moise&#39;s speech after the final results! Way too many guns in the room. <a href="https://twitter.com/hashtag/haitielections?src=hash">#haitielections</a> <a href="https://twitter.com/hashtag/haiti?src=hash">#haiti</a> <a href="https://t.co/8P5mm6cQzQ">pic.twitter.com/8P5mm6cQzQ</a></p>&mdash; bahare khodabande (bahare_kh) January 3, 2017
Jovenel Moise to Clinch Haiti Presidency; Poll Fraud Ruled Out https://t.co/enZ2MpYS0mpic.twitter.com/6erO1ry4xu

— The Voice of America (@VOANews) January 3, 2017