Time-lapse video shows Beijing engulfed by smog
Comments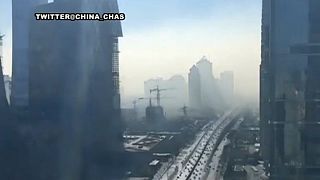 An eerie 12 second long time-lapse video of smog choking the city of Beijing gives a glimpse of the serious air pollution problem in the Chinese capital.
The video shows the smog descending over the city and engulfing buildings during a 20-minute period.
It even looks like a bleeding lung. pic.twitter.com/gWNsIvFATq

— Chris Buckley 储百亮 (@ChuBailiang) January 3, 2017
The hazardous air quality conditions started last Friday (30 December) and are expected to persist until the weekend.
Chas Pope, a British engineering consultant working in Beijing, captured the footage.
Bank of AQI400+ smog rolling into Beijing just now – within 20 minutes https://t.co/jbk3byT37C#beijing#airpocalypse#smogpic.twitter.com/Sf5Zom6F9M

— Chas Pope (@china_chas) January 2, 2017