Heavy smog in Beijing: "It makes us feel so depressed"
Comments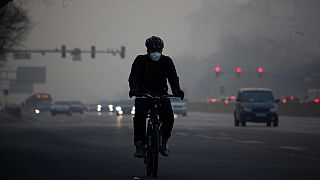 The second-highest pollution alert has been issued for Beijing, where heavy smog is expected for at least another five days.
Hundreds of flights have been grounded and highways closed as authorities attempt to reduce the pollution.
The alert comes despite anti-smog measures in force over the New Year period.
Gao Yan, a Beijing resident, told reporters: "Nobody likes smog. It brings many negative effects on people's emotions and we all feel very bad about it.
"We see items on social media and read media reports everyday about smog and they make us feel so depressed."
Zhan Yan, another resident, said: "I feel so depressed. I have a child but I can only keep him at home and he can't even go out into the sunshine, this really worries me. It's grey everywhere. What about the future?"
However, despite the pollution alert, Beijing authorities say air quality is improving overall.
They say the concentration of harmful particles was down almost 10 percent last year and the number of blue sky days was up 12 to 198.