Philadelphia holds its traditional 'Mummers parade'
Comments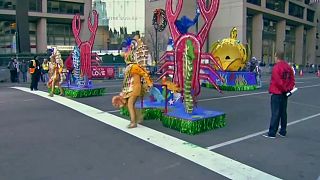 Thousands have taken part in one of the US's oldest January the first parades. The traditional event in Philadelphia is in its 117th year and is known as the Mummers parade.
The term "Mummer" refers to an amateur actor wearing a costume to perform in a folk play. There's a wide variety of mummer plays, all characterised by big masks and pantomime traditions.
Local organisations compete for top honors in different categories. A popular theme this year was underwater life with participants dressed as lobsters and other sea animals.
After The Parade, Mummers Take Their Talents To Two Street https://t.co/GY01IagM26pic.twitter.com/5rR01GqUL5

— Philadelphia Online (@PhiladelphiaON) January 2, 2017