Choking smog begins to clear in China
Comments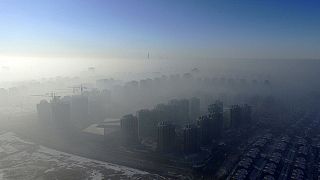 The heavy smog that has blanketed parts of China is clearing in places.
A pollution index that measures the average concentration of small breathable particles, known as PM2.5, dropped to just over 100 micrograms per cubic metre in Beijing early on Monday.
The index had topped 500 on Sunday evening.
According to the World Health Organisation, the safe recommended level of PM2.5 is 100 micrograms per cubic metre.
China starts 2017 engulfed by smog, issues pollution alerts. https://t.co/VRGr9KhuTb

— The Associated Press (@AP) January 2, 2017
Is the smog gone for good?
Possibly not.
Forecasters say it is likely to be only a brief respite.
More smog is expected to return to the wintry north within 24 hours.
Beijing and the nearby city of Tianjin will be affected once more from Tuesday.
The smog is expected to persist until Thursday in Hebei, the heavily-industrialised area surrounding the capital.
Henan and Shandong provinces will also be affected.
Beijing will extend orange alert for heavy air pollution for another 3 days as #smog continues in the city https://t.co/YX1jC3LbAFpic.twitter.com/v6opFyCyls

— China Xinhua News (@XHNews) January 2, 2017
What the Chinese government is doing
Late on Sunday, the Ministry of Environmental Protection said 62 northern cities had issued yellow, orange or red alerts.
Chinese state television reported some highways to Beijing and Tianjin were re-opened as motorists headed home at the end of the long weekend.
However, 20 remained closed in Shandon province, as the heavy smog persisted.
Alerts since mid-December
The authorities have been issuing smog alerts across the north since mid-December.
Hundreds of factories have been ordered to scale back production
or even close outright.
There have been restrictions on motorists to cut emissions.
Unauthorized resumption of production found in environment inspections in #smog-hit China https://t.co/jziWex0xi1https://t.co/ZcwlcPvG4ppic.twitter.com/M73YaqM5rs

— China Xinhua News (@XHNews) January 2, 2017
Pollution alerts "common"
Pollution alerts are common in northern China, esoecially during winter when coal-fuelled energy demand soars.
Commentators say China has struggled to tackle the problem effectively, after decades of breakneck economic growth.
Much of this has been based on heavy industry and the coal-fired power sector.