Clashes continue but Syrian ceasefire appears to hold in civilian areas
Comments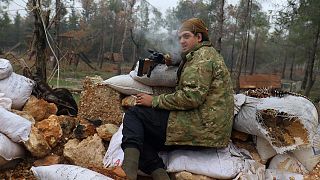 The fighting may be over in Aleppo and the Russian and Turkish architects of the Syrian ceasefire may be contemplating an end to the country's six years of agony, but clashes continue to erupt.
Fighting was reported in Hama province, intense in Halfaya, and in Idlib and the Wadi Barada. There were also clashes in Basima near Damascus.
Warplanes struck at targets in the northwest and 20 raids hit towns along Idlib's provincial border with Hama, but in the town itself it was quieter.
"The ceasefire is good. It's good for the people to get a break from the aircraft, the strikes and killing. The people are tired. We hope that God can stop our suffering, with a ceasefire or with anything else and the help of anyone," said one man.
Another male Idlib resident was more defiant:
"We accept this ceasefire but we can't keep this traitorous army and secret service which kills people, with the regime who sells Syria to Iran and Russia".
After the ceasefire took effect a small crowd of protesters took to the streets of Idlib, with many calling for the removal of Bashar al-Assad as president, but according to observers it seems for the moment the ceasefire has stopped civilian casualties.