Russia rules out explosion on plane that crashed into Black Sea
Comments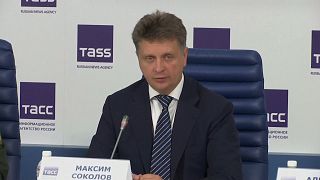 Russia's defence ministry says no evidence has been found of a fire or an explosion as a possible cause for the plane crash in the Black Sea on Christmas Day.
A full investigation will be complete within 30 days it said, but the most likely cause remains mechanical failure.
Russia's transport minister said the search on the sea bed was nearing its end.
"We have completely examined the scene of the catastrophe. During the search operation today, 19 bodies, over 230 fragments of bodies, 13 large and almost 2,000 small pieces of plane debris have been recovered from the water," Maxim Sokolov said.
The aging Tupolev military plane crashed just 70 seconds after it took off in good weather from the city of Sochi.
All 92 people on board died, including 64 members of the renowned Alexandrov military music ensemble who were headed to Syria to play at a New Year concert for Russian troops there.
The Tupolev 154 airliner was 33 years old and was a model no longer used by civilian airlines.
But officials say the plane will still be used by government ministries.