Google's 2016 most-searched review reveals Britons' interests
Comments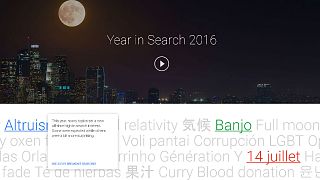 Google has released its summary of the most-searched items on the www in 2016.
The winning search is Pokemon Go.
They are also presenting the most-searched terms by category, along with what the company calls Breakout searches
month by month.
#Google Scholar is a search engine that provides academic results to its users https://t.co/yHlcKOqgSm#educationpic.twitter.com/oUAlY0C6se

— Susan Dolan (@GoogleExpertUK) December 29, 2016
In Britain the top trending story was the Euro 2016 football tournament but two musicians, David Bowie and Prince made the top five.
In the news story category no prizes for guessing Brexit was the winner, but America's Donald Trump topped the politicians' list ahead of any British figure. Murdered Labour MP Jo Cox came in third.
After her death, architect Zaha Hadid, known for her expressive, flowing forms, peaked in search. #YearInSearchhttps://t.co/razNhGR53Opic.twitter.com/miz0TtSRX9

— Google (@Google) December 20, 2016
Male role models were topped by a reality TV star, mixed martial artists and two footballers, while women did little better in a list topped by Prince Andrew's latest girlfriend, minor TV celebrities and singers.
Slytherin lost a good one. Searches for Alan Rickman & Professor Snape hit an all-time high in 2016. #YearInSearchhttps://t.co/razNhGR53Opic.twitter.com/T4SZQMhpqO

— Google (@Google) December 17, 2016
Four out of the five most searched-for movies were about cartoon superheroes, while the top recipe search was for blueberry wine, possibly because the great British public thought that it would count as one of their five a day, as "How to lose weight" was the second-top How To? search…just after How to play Pokemon Go.