Taiwanese school's Nazi Christmas causes storm, director resigns
Comments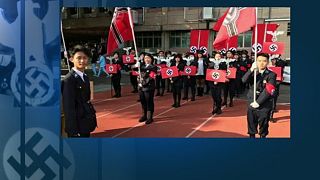 A historical reconstruction held at a Taiwanese school has caused an international outcry after students marched as Nazis complete with cardboard panzer in a Christmas parade.
Originally one of the school's teachers suggested an Arabic culture theme, but in two rounds of votes the student plumped for the Nazi reconstruction, it seems, because their school uniforms would easily adapt to Nazi uniforms.
"About this issue, the Ministry of Education will make a decision according to the investigation of the special committee," said Education Minister Pan Wen-chung.
"#SimonWiesenthalCenter denounces yet another Nazi-themed parade in Asia, this time in #Taiwan. In the 21st… https://t.co/lhdYnhcOsw

— SimonWiesenthalCntr (@simonwiesenthal) December 26, 2016
Israel has been particularly shocked, but the school has promised to initiate education programmes to correct the error. The school's director has resigned and apologised, and the Israeli Economic and Cultural office will be invited to address students.