Court rejects dropping of blasphemy charges against Jakarta governor
Comments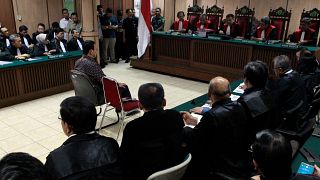 Jakarta's minority Christian governor has failed in attempts to stop a blasphemy trial against him.
Basuki Purnama is accused of insulting the Koran in a case that has divided opinion in the Muslim-majority country.
Judges today rejected a call by defence lawyers for the charges against the ethnic Chinese politician to be dropped.
A trial is expected to begin in January, depending on the outcome of any possible appeal.
Hundreds of Muslim protesters gathered outside the court to demand the jailing of the governor.
Purnama is accused of using a verse from the Koran to boost his electoral chances.
But outside the court there was also a smaller group of protesters who support the governor.
He faces up to five years in jail of convicted.