Russia mourns plane crash victims
Comments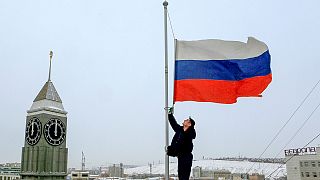 Flags are being flown at half mast both at the Kremlin and across Russia, as the country held a national day of mourning on Monday for the 92 victims on board the Tu-154 military jet. All are feared dead.
The loss of so many talented artists from Russia's world famous military choir has been keenly felt and outside the Alexandrov Ensemble building in Moscow, people have been paying their respects.
"My grandfathers were singing in the ensemble in the 1940s and 1950s, their surname was Dolnov. So, this ensemble is so close to me. It's a horrible tragedy, it is impossible to believe,'' one man said.
Elizaveta Glinka, a popular charity worker and inaugural winner of Russia's state prize for human rights was also among the crash victims. She had reportedly been taking medical supplies to a hospital in Syria's coastal city of Latakia.
One woman at a shrine for the charity worker said: "She was not indifferent, she was a kind and warm-hearted person. She helped many people so much. There are few people like her. Russia has lost a lot."
At Sochi airport, where the doomed flight took off before crashing into the Black Sea only two minutes later, tributes have also been held for the dead, which included nine journalists, the crew and several military personnel.