Russia plane crash: more fragments and bodies pulled from Black Sea
Comments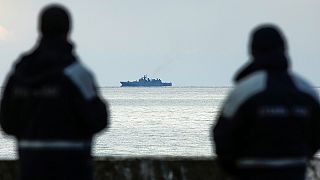 Amid a huge search for Russian military plane which crashed on Sunday, several large fragments and bodies from the jet have been pulled from the Black Sea.
But, initial claims that the jet's fuselage have been sighted have been denied.
More than 3,500 thousand personnel, including nearly 150 divers are said to be involved in the massive search operation.
Russia's Defence Ministry spokesman Igor Konashenkov said: "Using acoustic imaging, we have established a radius of about 500 meters in which the wreckage has been spread. The average depth of the fragments is about 30 metres, allowing us to use all the search-and-rescue equipment we have at our disposal".
More than 10 bodies and scores of body parts have been recovered from the crash site.
The plane came into service in 1983 and Russian officials increasingly think a technical fault or pilot error were behind the accident.
Russian Transport Minister Maxim Sokolov said: ''A terrorist act is not being considered to be the most likely cause. We increasingly believe the reason for this disaster was either technical or pilot error.''
For the moment, the Syria bound plane's black box flight recorders have not yet been found. Officials admit locating them will be a challenge as they were not fitted with radio beacons.
The flight was heading to Syria having originated in Moscow. It had landed in Sochi for refueling and disappeared from radar two minutes after taking off from the city's Adler airport.
The plane was carrying 64 members of Russia's internationally renowned Alexandrov military music ensemble, who were set to perform for Russian troops in Syria.