International hunt for Berlin suspect continues as dashcam shows attack for the first time
Comments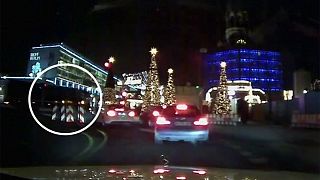 Newly released dashcam footage reveals the moment when a truck drove into crowds of christmas shoppers in Berlin on Monday.
After the lorry is seen mounting the curb to the left, shoppers begin to rush from the scene.
According to German interior minister De Maizière, there is a "high probability" that Anis Amri, a Tunisian national, was the driver.
The international manhunt for Amri is continuing.
His wallet and DNA was found inside the driver's cab of the vehicle.
A European arrest warrant has been issued, and a €100,000 reward offered for Amri's capture.
Police raids have been launched in Berlin, and Dortmund to the west.
Two apartments were searched in the Berlin district Kreuzberg, where investigators believe Amri may have been.
And four individuals were detained while two properties were searched in Dortmund