And also, Christmas special edition: ugly Xmas trees and deadly garlands...
Comments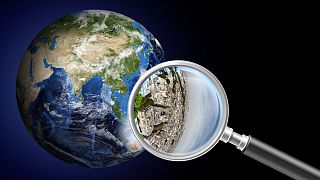 Every Friday, journalists from euronews' various language teams choose a selection of stories from Europe and beyond which did not reach the international headlines.
Female choir performs Christmas carols like goats for charity
A Swedish all-female choir performed a charity concert with a difference on 18 December, as they put a new spin on Christmas carols by singing like goats.
The choir bleated out classics such as "We Wish You a Merry Christmas" that feature on the charity album "All I Want for Christmas Is a Goat", released by ActionAid last year.
The humorous concert, which was live streamed on Facebook, also had a serious message – with the Swedish arm of ActionAid aiming to raise awareness of "the goat's importance and [the charity's] fight for a world free from poverty".
ActionAid says that goats help to empower women in areas of great poverty by providing "nutritious milk, which can be sold at the local market in order to collect money for seeds and the childrens' tuition."
---
Lateral thinking
Creatives in Moscow have turned Christmas on its head – almost – with an innovative way of displaying the traditional tree.
Gorky Park has installed the spruce horizontally in a bid to get passers-by to reflect about the 'rules and exceptions of urban space'.
"Horizontal tree will literally force its visitors to look at the park from a new angle by moving its boundaries of perception of familiar spaces," the promotional blurb read.
"For the first time the size of a Christmas tree will be measured in length, not in height. The length of the art project will hit the 30 metres.
"Construction will be located between the columns of the main entrance building and will be composed by fixed artificial spruce branches. The tree will literally be hanging in the air."
Christmas tree in Gorky Park, Moscow. pic.twitter.com/k4IJALyG9q

— Only In Russia (@CrazyinRussia) December 22, 2016
---
Woolly warmers for roadside bollards
It's not just locals who have been wrapping up to stave off the winter chill in one Scottish town.
Woolly winter-themed covers have been knitted for roadside bollards in Callander, north of Glasgow!
The covers, some of which have been knitted in the style of Olaf the snowman from the movie Frozen, were produced by women from the town's 'Meet and Make' and 'Creative in Callander' groups.
Christmas Bollard warmers in Callander today! pic.twitter.com/OybyFH0Hp8

— ThistlePipingCentral (@PipingThistle) December 5, 2016
---
Shy schoolgirl makes all the right noises
Footage of a schoolgirl with learning difficulties singing a version of Leonard Cohen's "Hallelujah" has gone viral online.
It was shown at her school's Christmas Carol concert, reportedly reducing audience members to tears.
Teachers say Kayleigh Rogers, 10, who has autism and ADHD, gets a great deal of confidence from singing.
She attends Killard House School in Northern Ireland.
---
Sneaky snake found in Christmas tree
A woman in Melbourne, Australia, had an early Christmas surprise when she found a venomous, metre-long snake curled around her Christmas tree.
She called snake catcher Barry Goldsmith to rid her of the reptile.
Goldsmith, who has worked as a snake catcher for more than three decades, said he had never come across such a scenario.
---
Santa's skyscraper surprise
Santa made an impromptu appearance at the Kollhoff Tower on Potsdamer Platz in Berlin. Instead of coming down the chimney he climbed 100m down the skyscraper to surprise children at Panoramapunkt cafe.
---
Rome's Christmas tree given a makeover after being called the ugliest in the world
These are the before and after pictures of a Christmas tree in central Rome that was given a makeover after residents complained.
The tree, at Piazza Venezia, was initially branded the ugliest in the world.
But city authorities took note and improved its appearance with a star and brighter lights.
Mayor Virginia Raggi announced on Wednesday: "Romans want a more beautiful Christmas tree at Piazza Venezia, and they'll get one," she announced. "I've asked for more decorations and lights to be added, within moderation."
Nuovi addobbi e luci per l'albero di #Natale in Piazza Venezia pic.twitter.com/JVA80yrGVu

— Roma (@Roma) December 15, 2016
---
Canada: Santa renews pilot's license
Santa Claus successfully renewed his commercial pilot's license, passing a written exam as well as a health check – despite high sugar levels – and is good to fly for Christmas, Canada's transportation department said on Thursday.
Santa was given his pilot's license renewal by Transport Minister Marc Garneau, a former astronaut, according to a video released on youtube by Transport Canada.
"Santa, I've got good news for you, once again you've aced your pilot's exam so here is your certificate," Garneau tells the man, dressed in a fur-trimmed red suit and hat and wearing black gloves.
The video shows the elderly gift-giver completing a vision screening test composed entirely of the letters H and O, and handing over a urine sample.
---
Sources