Germany widens manhunt with European warrant for Berlin truck attack suspect
Comments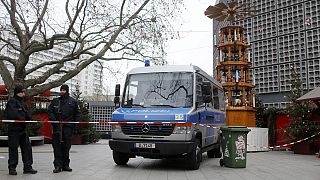 German police have issued a European arrest warrant for a man whose asylum application papers were found in the lorry that ploughed through the crowds at the Berlin Christmas market.
The man is presumably Tunisian, but police say he has several identities raising suspicions further, and at least one of these has links with a known ISIL recruiter.
Police say he may have shot dead the original Polish driver, and they believe he is at large with the murder weapon.
Interior Minister Thomas de Maziere chaired a crisis meeting before a press conference.
"We have a new suspect. We are searching for him. I want to add that he is just a suspect and not necessarily the actual murderer," said De Maziere.
On Monday a truck drove into crowds of shoppers and tourists at a popular Christmas market in the German capital, killing 12 people and injuring 48.
The attack was claimed by ISIL on the following day.
Police initially detained a young Pakistani man before releasing him.