Market security stepped up Europe-wide in wake of Berlin truck attack
Comments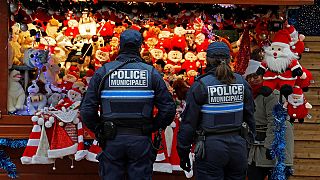 Security has been stepped up at Christmas markets Europe-wide in the wake of the Berlin truck attack.
In France, authorities are taking no chances. It has been under a state of emergency since a series of coordinated terror attacks in Paris, in November 2015.
Every morning, road access to the Strasbourg market is blocked and extra checks will be in place until Christmas Eve.
"We must continue to live, but with reassurances," said one woman.
"We avoid visiting the market at night, we prefer coming in the mornings, it's better, I hope," another added.
In Nice, events in Berlin are all too familiar. 86 people died and 434 were injured after a truck ploughed into a crowd following a Bastille Day firework display in July.
French and German authorities have been working closely together for months to help improve security, but some people are still worried.
"It just happened in Berlin. We don't know if something will happen here in Nice, or if it will start again in Paris," said a woman at the city's Christmas market.
Italy has also tightened security, particularly around areas it deems potential targets.
In addition, the Vatican has fitted metal detectors and armed police are patrolling St Peter's square.
Spain has said it won't change its security status, which currently stands at level four of five. The government has announced this is high enough for the situation at the moment.