Funeral of Russia's murdered envoy takes place in Moscow today
Comments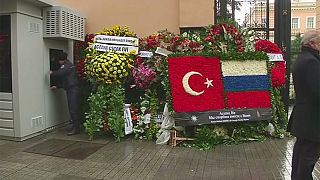 Books of condolence have attracted queues of visiters at embassy facilities in Turkey as people pay tribute to the Russian envoy who was shot dead by a gunman in Ankara on Monday.
A memorial service is to be held today (Dec 22) in Moscow for Andrei Karlov followed by his burial.
While both Moscow and Ankara claim the killing won't threaten relations, differences are emerging over the direction of the investigation.
Turkey claims gunman Mert Altintas, who shouted "Don't forget Aleppo" and "Allahu Akbar" when he shot Karlov, was connected to followers of Muslim cleric Fethullah Gulen. Ankara blames Gulen for July's failed coup attempt.
Thousands of Turks have been arrested or removed from their jobs in the crackdown aimed at routing out followers of the cleric.
As part of the Turkish police probe into the Karlov killing, 17 people have now been detained including members of Altintas' family.
Moscow has said it is too early to draw any conclusions and also added the assassination is a blow to Turkey's prestige, comments which are likely to unnerve Ankara.
Some of Russia's media is concerned with possible links to the Syria-based al Nusra terror group which has already claimed that Altintas killed the diplomat on their behalf.
Altintas reportedly cited religious phrases used by Nusra Front when he pledged loyalty to the Prophet Muhammad and vowed to engage in Jihad.
Investigators are hoping a laptop computer seized from Altintas' flat will shed further light on any possible links he has to known terror groups.