Conspirator or lone wolf ? - Russia and Turkey investigate envoy's killer
Comments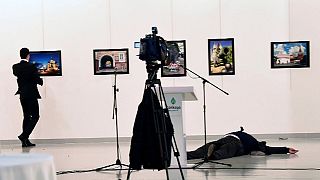 Russian and Turkish investigators are working together to determine whether the assassination of Moscow envoy, Andrei Karlov, was the work of a lone gunman or part of a wider conspiracy.
Both countries which have taken opposing sides in the Syrian war have said they wont let the killing harm relations.
Meanwhile a spokesperson for Fethullah Gulen has dismissed allegations of a connection with the US-based Muslim cleric:
"This is a desperate effort, I think, on behalf of Turkish government to distract attention from the glaring security lapses surrounding the incident. Obviously the Russian-Turkish relationship, the Syrian crisis, under the circumstances, there must have been real strong security around him. So I think they're trying to distract the observers from these glaring lapses," said Alp Aslandogan.
Family members of the killer who has been identified as police officer Mevlut Mert Altintas, are among six people detained by Turkish security.
A senior police official said they remain focused on the government's belief Altintas had links with Fethullah Gulen who is blamed by Ankara for the failed July coup attempt. It's a charge Gulen denies.
Analysts on the other hand have said the slogans that Altintas shouted when he shot the ambassador and which were captured on video, suggest more of a possible link with a radical Islamist ideology.