This is a very difficult day, Chancellor Merkel addresses Germany
Comments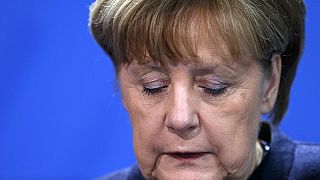 Chancellor Angela Merkel faces a moment of reckoning after the deadly attack on a Christmas market in Berlin. The leader's popularity had already taken a hit due to her open-door refugee policy, and attacks in Bavaria over the Summer.
Addressing the country in a televised news conference, she said:
"This is a very difficult day. I am disappointed, shocked and very sad about what happened in Berlin yesterday."
Security sources cited by reporters point to the suspect being a 23-year-old Afghan asylum seeker. Merkel responded to the news, saying it would be "particularly repugnant if the perpetrator was someone who got protection in Germany as a refugee." She added that the crime would be clarified and punished as harshly as the law allows.
Announcing she would visit the attack site later in the day, she sought to unite Germany saying, 'We don't want to live with the fear of evil paralysing us.'
#Merkel: "We don't want to live in fear…we will find the strength to live our lives open and free" #BerlinAttackhttps://t.co/TknbhcEEHa

— euronews (@euronews) December 20, 2016
Anti-EU politician Nigel Farage was criticised for political point scoring after the tragedy, saying that the attack would be Merkel's legacy.
Terrible news from Berlin but no surprise. Events like these will be the Merkel legacy.

— Nigel Farage (@Nigel_Farage) December 20, 2016