Trump picks hardline pro-settlement lawyer as ambassador to Israel
Comments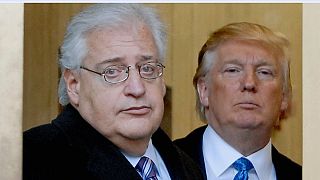 Donald Trump has named hardline pro-settlement lawyer David Friedman as his pick for ambassador to Israel.
A bankruptcy attorney with no diplomatic experience, his nomination signals a sharp departure from decades of American policy with the country.
He served as a campaign advisor to the president-elect on the Middle East, and has set out hardline positions on Israeli-Palestinian relations.
"A Trump administration will never pressure Israel into a two-state solution or any other solution that is against the wishes of the Israeli people," he told a pro-Trump rally in Jerusalem in October.
Most notably, he said he would move the US embassy from Tel Aviv to Jerusalem, a potentially explosive move. Most foreign embassies are located in Tel Aviv, as most countries don't accept Jerusalem as the Israeli capital, and do not recognise Israel's annexation of Arab East Jerusalem after the 1967 six day war. Palestinians regard the city, which has sites sacred to the Jewish, Christian and Muslim faiths, as a future capital of a separate state.
UPDATE:
Representatives for Donald Trump said it was too soon to say when the president-elect would make good on his campaign pledge to move the US embassy in Israel from Tel Aviv to Jerusalem. Aide Jason Miller said Trump 'remains firmly committed' to the move.
A senior Palestinian official warned that moving the embassy would destroy prospects of peace with Israel.