So what will a Trump presidency look like?
Comments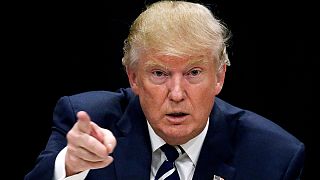 He is the least popular US President-Elect in recent history, pollsters say.
I can see this being a chaos presidency

Ex-advisor to Bill Clinton
Yet, with just over a month to go until Donald Trump's inauguration, excitement is building for some. Trepidation is growing for others.
So what kind of leader will Trump make?
Former House Speaker Newt Gingrich, an adviser to Trump, thinks he must stay close to his grass-roots supporters.
"He draws the strength of reminding himself he is the tribune of the American people, not of Washington," Gingrich said.
"Trumpism is an appeal to the American people." - @newtgingrichhttps://t.co/kgvY1uQOr0pic.twitter.com/A0Xh6RYlxr

— The Daily Signal (@DailySignal) 13 décembre 2016
"And it is very important for him to see 10, 15, 20,000 people and be reminded he speaks for them and therefore he has a moral authority that nobody in the bureaucracy and nobody in the Congress has."
Trump says he wants to unite the deeply-divided country from the White House. But by pursuing radical moves on immigration and trade demanded by his supporters, he risks alienating all the more those who voted against him.
Elaine Kamarck, a senior fellow at the prominent Brookings Institution think tank, served as an advisor to President Bill Clinton. She believes a Trump administration will be a mess.
"If I were just to sum it up in one word, I can see this being a chaos presidency," she told Euronews.
"That is not good for anybody. It is not good for international relations. It is not good for business. His lack of discipline is a really serious problem."
What does Trump's presidency mean for progressives in the US? @EKamarck on the bumper sticker president https://t.co/R9kAhUcErnpic.twitter.com/msc3YXSqyP

— ProgressOnline (@ProgressOnline) 7 décembre 2016
Soon the American people will know more. On January 20, it will be 'bye bye Barack Obama. Hello President Trump'.
Our Washington correspondent Stefan Grobe said:
"What Donald Trump's governing style will be is anybody's guess at this point. If his cabinet picks serve as any guide, the new administration will put a premium on outsider experience – to pursue a very conservative agenda."