Trump says Tillerson will be 'fierce advocate for America'
Comments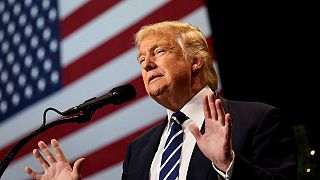 US President-elect Donald Trump has stopped off in Wisconsin on his victory tour of states just hours after a recount of votes there added to his presidential tally.
fierce advocate for America

US President-elect
Trump used the visit to defend his controversial choice of Exxon Mobil chief and Russophile Rex Tillerson for US secretary of state, saying he would be a 'strong and tough diplomat'.
"Rex will be a fierce advocate for America's interests around the world and has the insights and talents necessary to help reverse years of foreign policy blunders and disasters."
With Trump still in the process of naming his cabinet a visit by rapper Kanye West to Trump Tower has sent social media into a frenzy. The meeting has sparked speculation about both a possible performance at Trump's inauguration and an informal administration role.
POLL: Should Kanye West perform at Donald Trump's inauguration? YES. What do you think? https://t.co/rDDnKcgulS via ConsrvOutfitter</a></p>&mdash; Amie (DivaAmie) December 14, 2016
Kanye West meets with Donald Trump to discuss 'multicultural issues' https://t.co/JdzdYSZdVh

— Thus Spake (@thus_spake) December 14, 2016
Donald Trump's latest chose for a member of his future administration is Republican Ryan Zinke of Montana – a former Navy SEAL commander – as his interior secretary.