Immigrant who lied about age suspected of rape and murder
Comments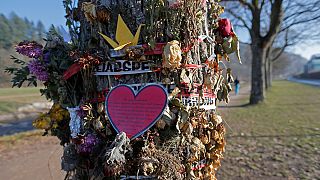 An immigrant accused of raping and murdering a German student is the same man who was convicted of a separate attack in Greece.
A Greek police spokesman confirmed to Euronews that fingerprints showed that a man giving his name as Hussein Khavar who was sentenced to 10 years for attempted murder in Corfu, is the same now held by authorities in the city of Freiburg.
The man was allowed Germany after claiming to be a 16-year-old unaccompanied minor.
However, at his trial in Greece in 2013 he said he was 17 and his age helped him to secure early release under a prison reform programme in 2015.
He disappeared from an offender monitoring scheme in December that year and an arrest warrant was issued. Despite this he was welcomed into Germany and housed with a family.
He also appears to have changed his nationality in the intervening period, telling Greek police he was Iranian but claiming to be Afghan in Germany.
He is accused of the rape and murder of Maria Ladenburger, who volunteered helping refugees, following a party in the southern city of Freiburg in October.
Contacted by Euronews, Maria-Eleni Nikopoulou, a lawyer who represented Khavar at his trial in Corfu said that he had claimed to be drunk when he pushed a student off a cliff.
Dental tests at the time indicated that he was under 18 so he was sent to a juvenile prison in Athens.
He was given a supervised release two years later under a programme instituted by the Syriza government to free up space in prisons, but he then failed to appear at a regular appointment at the police station.
After declaring his remorse, the man was asked to write a letter of apology but never did, according to his lawyer.
The brother of the victim of that attack told Euronews that while his sister had recovered from her injuries, the family just wanted to move on from the incident.
"We are trying to forget what happened. Now my sister is fine and we don't want to speak again about this nightmare," he said.
In reaction to the crime, German Vice Chancellor Sigmar Gabriel warned against exploiting the crime for "incitement" against migrants.
In fact, crimes committed by immigrants have declined by 36% in the first half of 2016, according to the German government .
Germany has also experienced a drop in the number of migrants received in 2016, down from a record breaking year in 2015.
However, hate crimes against migrants and asylum seekers rose by more than fivefold , including 75 cases of arson against asylum shelters in 2015.