'First convoy leaves eastern Aleppo' under evacuation deal
Comments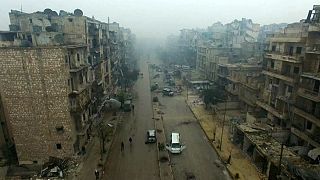 A first convoy of people requiring medical attention left war-shattered eastern Aleppo on Thursday morning, according to the Syrian Observatory for Human Rights.
It was making a journey which will take patients through government territory into the rebel-held western Aleppo countryside as agreed in an evacuation deal this week, the UK-based war monitor reported.
A rebel official said, however, that the first ambulances were shot at by pro-Assad militias on their way out.
Three people were wounded in the gunfire, one of them a rescue worker, the head of the ambulance-service in what was rebel-held Aleppo told pro-opposition Orient TV.
It comes as moves to organise the departure of rebel fighters from eastern Aleppo got underway, a
Syrian military official said, speaking the day after a resumption of violence sunk a similar initiative.
Groups of civilians are also set to be evacuated from the territory, where guns fell silent in the early hours of Thursday morning, according to a Reuters witness in the city.
An official with an Aleppo rebel group said a ceasefire had taken hold at 2:30 a.m local time.
Syrian opposition groups announced earlier that an evacuation of rebel-held areas of Aleppo was back on track and expected to begin but uncertainty persisted overnight as a media outlet run by Lebanon's Hezbollah said truce talks faced "big complications".
The International Committee of the Red Cross (ICRC) said that it and the Syrian Arab Red Crescent had 100 volunteers and 10 ambulances to help with the operation for the wounded.
It is not clear how many people including rebel fighters are still in the besieged city – It could be as many as 100,000.
#Syria: It's time for the world to stand up for the children of #Aleppo and bring their living nightmare to an end https://t.co/ZvwkFhmdAEpic.twitter.com/1EJiuamUDk

— UNICEF (@UNICEF) 13 décembre 2016
On Wednesday a planned evacuation never materialised as shelling began once again. Syrian rebels blamed the surge in shelling on Wednesday on Iranian-backed militias.
Residents have faced weeks of bombardment and chronic food and fuel shortages.
Medical facilities in the city have largely been reduced to rubble, as rebels have been squeezed into ever-smaller areas by a major government offensive, backed by Russian air power.
"I am very scared of what the future might hold for us, and especially for my daughters." A Syrian mother's fears: https://t.co/nWyNLIqCXp

— UN Refugee Agency (@Refugees) 15 décembre 2016
Evacuating the city will mark the end years of fighting for Aleppo and be a major victory for Syrian President Bashar al-Assad.
Watch: Syria, Russia and the USA at the UN