Aleppo: 'A complete meltdown of humanity'
Comments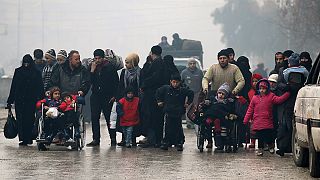 As the battle for Aleppo comes to an end, the plight of civilians is getting worse by the hour amid accusations by Western countries of atrocities as the Syrian army advances.
The United Nations said on Tuesday it had reports that Syrian soldiers and allied Iraqi fighters had summarily shot dead 82 civilians in recaptured districts of Aleppo, which was Syria's largest city before the civil war began nearly six years ago.
For more on that, Euronews talked to Jens Laerke, a spokesperson for the UN's humanitarian affairs coordination office in Geneva.
Nial O'Reilly, Euronews:You've described the situation in Aleppo as 'a complete meltdown of humanity'. Pro-government forces are said to have killed some 80 people. Does the UN know which faction was involved and what were the circumstances?
Jens Laerke: "Well, we do not know exactly. We have, from multiple sources, from inside the area, these very horrific reports that we believe carry some truth and some weight of civilians being executed in various neighbourhoods. Our concern right now is, of course, for the thousands of people who remain in what is left of besieged eastern Aleppo. We urgently call for the parties to allow them – they are civilians – to allow them to escape the area."
Euronews:We have heard reports of killings by pro-government forces. Are there reports of atrocities by both sides – by the rebels?
Jens Laerke: "We have had, over the past week, certainly, reports of all sides to the conflict, both breaching international humanitarian law which stipulates that civilians must be spared the effects of fighting – that is not happening. Also of human rights violations from all sides. So it really is a call to everybody."
Civilians killed in 'complete meltdown of humanity' in #Aleppo: U.N. https://t.co/7iBZxuX6JH via @nbcnews

— Jens Laerke (@JensLaerke) 13 décembre 2016
Euronews:What have you directly said to the Syrian government about their responsibilities?
Jens Laerke: "We have constantly, on a daily basis, pleaded, advocated, urged, yelled frankly, at everybody to lift the siege in eastern Aleppo, as we ask for the lifting of sieges across Syria. So we are advocating to the best of our ability but we can only go so far."
Euronews:What do you know about the civilians that are reported to have gone missing from areas recently retaken by Syrian government forces?
Jens Laerke: "We have had very disturbing reports previously of men who have gone missing, men of military age apparently. Their famililes have reported that they have gone missing, after they have fled. Of course, we have expressed our deep concern over that. There is a history of arbitrary detention. There is a history of torture in Syria so, of course, we are extremely concerned when we get such reports."
Euronews:That has echoes of what took place in Srebrenica through inaction by the international community. Are we facing another Srebrenica?
Jens Laerke:: "Well it is almost impossible to compare these extreme situations. They are extreme in their own right and it would not really be just or fair to compare them. What we have seen, over a very long time now, is a political failure to find some kind of a negotiated solution to what is happening in Syria."