Watch: Firefighter resuscitates dog using mouth-to-mouth and CPR
Comments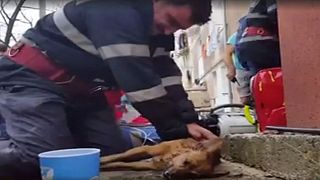 After a fire broke out at a block of flats in Pitesti, Romania, last Friday, December 9, one firefighter took it upon himself to resuscitate a dog that had collapsed due to smoke inhalation.
He performed chest compressions and mouth-to-mouth resuscitation, before fixing an oxygen mask over the animal's face.
The dog's owner, who was also in the flat when the fire broke out, had already been taken to the hospital to receive treatment.
According to local reports, the firefighter's selfless actions saved the canine's life.