Obama orders review into cyber attacks on presidential election
Comments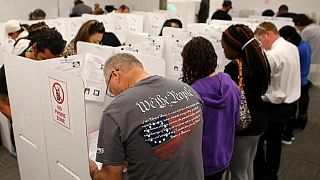 US President Barack Obama has ordered intelligence agencies to review cyber attacks on the 2016 elections.
A report into foreign intervention must be delivered before he leaves office in January, the White House has said.
It comes after Washington formally accused Moscow of a campaign of cyber attacks against Democratic Party organisations.
"In 2016, our intelligence community determined there was malicious cyber activity intended to interfere with our elections," Deputy White House Press Secretary, Eric Schultz told reporters. "In (the) high confidence assessment that was released this past October, the intelligence community made very clear that this was activity directed by the highest levels of the Russian government. So, as we've made clear, we're committed to ensuring the integrity of our elections"
President-elect Donald Trump has cast doubt on Russian hacking and heaped praise on president Putin, and during the campaign called on Russia to reveal emails from Hillary Clinton's time as secretary of state.
The Kremlin has denied all accusations of interfering in the US election.