Colombian Nobel Prize winner says a "ray of hope" for Syria, Sudan
Comments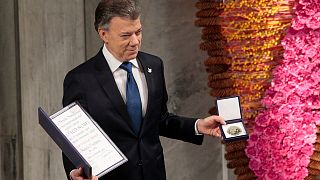 Santos collects Nobel Prize in Oslo for deal with

FARC
Quotes anti-war song by Bob Dylan, 2016 literature winner
Hopes Colombian deal can inspire peace talks elsewhere
Colombian President Juan Manuel Santos said an accord to end a 52-year civil war with Marxist rebels was a "ray of hope" for solving conflicts from Syria to South Sudan as he collected the Nobel Peace Prize on Saturday.
The Colombian peace agreement is a ray of hope in a world troubled by so many conflicts and so much intolerance

Colombian President
In an acceptance speech that quoted an anti-war song by Bob Dylan, the 2016 Literature Laureate, Santos said Colombia itself had drawn inspiration from other peace processes such as those in South Africa and Northern Ireland.
Santos collected the prize – a gold medal, diploma and a cheque for 8 million Swedish crowns ($870,000) at a ceremony in Oslo's city hall for his efforts to end the conflict with Marxist FARC rebels in which 220,000 people died.
"The Colombian peace agreement is a ray of hope in a world troubled by so many conflicts and so much intolerance," he said, saying a U.S. academic study called it the most comprehensive of 34 peace accords signed in the past three decades.
"It proves that what, at first, seems impossible, through perseverance may become possible even in Syria or Yemen or South Sudan," he told an audience including victims of the war as well as Norway's King Harald.
The rebel Revolutionary Armed Forces of Colombia, or FARC, were not invited, except for a Spanish lawyer to represent them. FARC leader Rodrigo Londono had been tipped by some Nobel watchers to share the prize with Santos.
The audience applauded a group of about 10 victims attending the ceremony, after they stood after Santos introduced them.
Among them was Leyner Palacios, a man who Santos said lost 32 relatives, including his parents and three brothers, in a 2002 FARC mortar attack on a church. Palacios nodded when Santos said he had forgiven the attackers.
The peace deal almost collapsed in October after Colombian voters rejected it in a referendum, reckoning the first version was too lenient on the rebels. A revised deal was approved by Congress last month, but controversially without a referendum demanded by a big opposition party.
Berit Reiss-Andersen, a member of the five-member award committee, said in a presentation speech that Santos had been "a driving force" and that the peace process needed "all the international support it could get" after the referendum.
In his speech, received with a standing ovation, Santos quoted what he called a "haunting question" from one of Dylan's most famous songs: "How many deaths will it take 'till he knows that too many people have died? The answer, my friend, is blowin' in the wind."
The other 2016 prizes – for Literature, Medicine, Physics, Chemistry and Economics – will be presented later in Stockholm. Dylan has said he won't attend, citing "pre-existing commitments."