Colombia: FARC rebels take first step towards demobilisation
Comments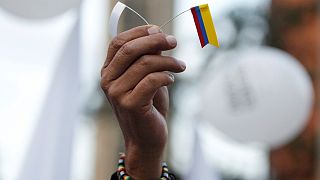 Dozens of FARC rebels have gathered in Colombia ahead of handing in their weapons, in what is seen as a first critical step in implementing the peace deal.
They joined together in the northern region of Cesar, under the watchful eye of United Nations observers and government representatives.
The group was due to head to a transition area, where they will live up to six months, with the handover of weapons expected to be completed by 30 April next year.
At that point, the FARC will become a political party, a major milestone in the peace accord negotiated in Cuba.
The controversial deal puts an end to a civil war that killed thousands and displaced millions since 1964.