And also... Cold tourism and New Zealand denial
Comments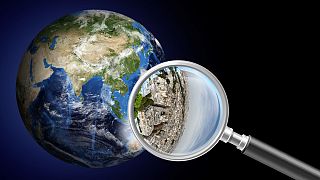 Every Friday journalists from euronews' various language teams choose a selection of stories from Europe and beyond which did not reach the international headlines. Here are some of them.
Kazakhstan's Kiwi confusion as traveller refused entry
If you want to curry favour with someone from New Zealand, it is best to steer well clear of anything that may suggest the country is in any way inferior to their neighbours and rivals Australia.
Yet this wisdom has clearly not yet reached Kazakhstan.
A New Zealand traveller trying to enter the central Asian country, was told she couldn't come in without an Australian passport.
"I landed in Kazakhstan on the last flight of the night, and I got to an immigration booth and they asked me for an Australian passport, and told me I couldn't come in without an Australian passport," said Chloe Phillips-Harris, 28. "They said New Zealand's clearly a part of Australia."
The traveller said she was held for a day-and-a-half before contacts in Kazakhstan helped her get a visa.
---
Snappier exam results for US students
For those expecting important exam results, the wait can be excruciating.
Now one American college thinks it's found a way of putting students out of their misery quicker, by using the latest technology.
The University of Wisconsin-Green Bay (UWGB) is sending results via the instant messaging application, Snapchat.
The university said they still send out emails and traditional letters with the results, but that the use of Snapchat has made the process more interactive: students often reply with excited selfies reacting to their news.
---
Restaurant's Christmas kindness
A Muslim-owned restaurant near London has drawn praise after offering a free Christmas Day meal to the elderly and homeless.
Shish Restaurant in Sidcup, south-east of the English capital, posted the offer on social media, declaring: "Help us to make sure no-one is alone this Christmas!"
Sarah, writing on Twitter, said: "I don't live near Sidcup but your act of kindness has made me and my family want to come and visit your restaurant very soon."
November 18, 2016
---
A commute with a view in Budapest
Usually when a train or metro stops working or is upgraded, commuters complete their journey on a bus or on foot.
But travellers in Budapest have an altogether more pleasant option: going by boat.
While the M2 metro – which connects Buda and Pest – is being improved, transport authorities have laid on a boat option across the Danube river, allowing commuters views of the Hungarian parliament, Buda castle and the Chain bridge, a vista so impressive it's been listed by UNESCO.
---
Helsinki hails its winter visitors
A sign in Helsinki has been hailing travellers brave enough to visit Finland this time of year.
Average temperatures hover around freezing and for most of December there are less than six hours of daylight.
Marianne Vikkula, CEO of Slush, who created the banner, told indy100: "Helsinki in November is weather-wise probably the worst possible place you can imagine. It's dark, wet and cold. It is quite difficult to promote our otherwise lovely capital."
A sign outside the Helsinki airport. pic.twitter.com/NTFwZknKFI

— Robbie Gramer (@RobbieGramer) December 6, 2016
---
Space oddity as Dr David Bowie treats 'starman' Buzz Aldrin in NZ hospital
In what can only be described as a space oddity, former astronaut Buzz Aldrin is being cared for in a New Zealand hospital by Dr David Bowie after being evacuated from the South Pole.
In a truly remarkable coincidence, Aldrin's doctor shares the name of the late British singer whose greatest hits included songs such as "Starman" and others about space travel that could easily have been penned for the great American astronaut.
Thank heaven TheRealBuzz</a>&#39;s doctor is David Bowie. You can&#39;t make this stuff up. <a href="https://t.co/jbqqZeWgx9">pic.twitter.com/jbqqZeWgx9</a></p>&mdash; Christina Korp (Buzzs_xtina) December 5, 2016
---
New Zealand passport robot tells applicant of Asian descent to open eyes
A New Zealand man of Asian descent had his passport photograph rejected when facial recognition software mistakenly registered his eyes as being closed. Richard Lee's attempt to renew his passport was blocked after he submitted the picture to an online passport photo checker run by New Zealand's department of internal affairs.
Lol. Not sure if this is funny! | New Zealand passport robot tells applicant of Asian descent to open eyeshttps://t.co/mrVkoCwiIo#racism

— opeoluwa (@opeoluway2k) December 7, 2016
---
Hitler's Mein Kampf on schoolchildren's top books list
Schoolchildren at ten schools in Italy have ranked Hitler's Mein Kampf among their favourite books.
Italy's Ministry for Education launched the survey as part of a bid to promote reading.
But several secondary schools included Hitler's book – which outlines his ideology that formed the basis for Nazism – in their top ten lists.
Alessandro Fusacchia, from the Italian Ministry for Education, told The Local in Italy: "We are looking into it, but we are convinced that it was not a bad interpretation of the request, but rather a free choice."
Hitler's Mein Kampf a surprise entry in Italian schoolkids' top books list https://t.co/r9pdbClsYDpic.twitter.com/pJzHlBLhVS

— The Local Italy (@TheLocalItaly) December 8, 2016
---
Sources: