"We're Italians, we come to help you"
Comments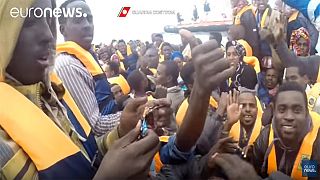 Up close and personal with the latest group of migrants found drifting in the Mediterranean.
This is footage from the Italian coastguard who picked up 473 migrants in five operations on Tuesday, December 6.
In this clip, the rescuer, with a camera attached to him, boards the inflatable boat and tells migrants: "We're Italians. We come to help you."
The migrants, including a baby, are then transferred to safety, one-by-one.