Trump picks 'climate change denier' for key environment post
Comments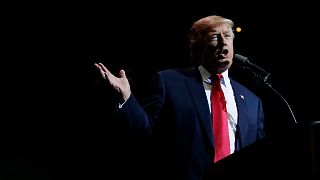 President-elect Donald Trump has announced another flurry of people for key positions as he continues to build a Cabinet ahead of his inauguration on January 20.
One of the most controversial is the person he's nominated to head the Environmental Protection Agency. Oklahoma Attorney-General Scott Pruit is a "climate-change denier" who has sued the EPA in the past over a regulation backed by President Obama to curb green house gas emissions.
Trump picks fossil fuel ally to head environment agency.#delicious#EPA#MAGA#Transition2017https://t.co/UGGhjs7rCqpic.twitter.com/R8iAB5svuu

— Linda Suhler, Ph.D. (@LindaSuhler) December 8, 2016
Opinion: Trump's pick of Pruitt to run the EPA spells disaster for the environment https://t.co/8YJSnowxb3pic.twitter.com/WjS0bjqtnp

— Los Angeles Times (@latimes) December 7, 2016
Retired Marine General John Kelly is a possible chief of Homeland Security which includes responsibilities for immigration. In his former role as US Head Southern Command he oversaw operations at Guantanamo Bay and clashed with Obama over his push to close it.
Gen. James "Mad Dog" Mattis, Gen. John Kelly, & Lt. Gen. Michael Flynn will soon be serving President Trump. Feeling safer already. #MAGApic.twitter.com/77pZIK6EoR

— Jeremy Nolt (@RealJeremyNolt) December 7, 2016
The position of US ambassador to China appears to be headed towards Iowa Governor Terry Branstad who claims to have had business dealings in Beijing. It's likely to be a challenge of a job amid current trade frictions between the two superpowers.
Trump's selection of Branstad as China Ambassador highlights the importance he places on personal relationships https://t.co/iXSNuVzvFl

— Ashley Townshend (@ashleytownshend) December 8, 2016
In addition transition officials have said Linda McMahon, the former CEO of a professional wrestling company, the WWE is Trump's choice to head the Small Business Administration.
scientistjadams</a> Trump Nominates Former Wrestling Executive Linda McMahon For Cabinet Post <a href="https://t.co/MKbm9JhJhE">https://t.co/MKbm9JhJhE</a> via <a href="https://twitter.com/TalalNAnsari">talalnansari

— Scat silvers (@Jokermtb) December 8, 2016
All four posts require Senate confirmation.