Trump calls for Air Force One order to be scrapped
Comments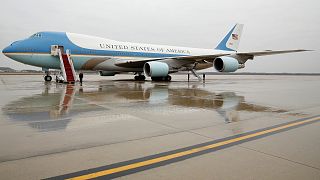 Donald Trump has said he wants to scrap
an order to revamp Air Force One, branding the project ''ridiculous''
The President-elect said the cost of replacing and fitting the two 747 jumbo jets had topped $4 billion dollars and was out of control.
Urging the US government to make savings, Trump initially took to Twitter calling for the deal with Boeing to be cancelled.
Boeing is building a brand new 747 Air Force One for future presidents, but costs are out of control, more than $4 billion. Cancel order!

— Donald J. Trump (@realDonaldTrump) December 6, 2016
While the White House has question Trump's figures, the President-elect later amplified his comments to journalists in the lobby of Trump Tower.
"Well the plane is totally out of control. It's going to be over four billion dollars for Air Force One program. And I think it's ridiculous. I think Boeing is doing a little bit of a number. We want Boeing to make a lot of money but not that much money," the President-elect said.
In a statement Boeing said it was currently under a preliminary contract deal for $170 million to determine the costs of building the two jets, insisting it would build ''the best planes for the president at the best value for the American taxpayer.''
The total cost of the programme is estimated to cost around $2.8 billion, equivalent to 2.6 billion euros)
Key military requirements include making it possible for Air Force One to communicate during a nuclear war.
The planes are set to enter service in 2024, but unless Trump wins a second term in 2020 he will not get to fly in the aircraft.