Searching for survivors: more than 1,000 rescue workers deployed after Indonesia earthquake
Comments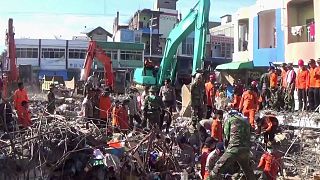 Over a thousand rescue workers are searching for survivors a day after a magnitude 6.5 earthquake rocked Indonesia, killing at least 102 people.
Hundreds were injured in the tremor, the biggest disaster to hit Aceh province, on the northern tip of Sumatra island, since the 2004 Indian Ocean tsunami.
Buyung, a rescue volunteer, said:
"We're focusing on searching for victims. We believe that there are five more people in this area, so probably the victims are trapped in this area."
SAR look for victims of #AcehEarthquake in Meuredue today; 8 people believed trapped beneath this 12-unit 2-storey shophouse #IOMAsiaPacificpic.twitter.com/EqzVmduPtu

— IOM Indonesia (@IOM_Indonesia) December 8, 2016
As hospitals fill up, makeshift tents have been set up to treat some patients. Thousands more have escaped uninjured, but lost their homes.
"Today, we are gathering our belongings," said one resident. "Perhaps there is still something that we can save, but the stuff we cannot use anymore, we just leave it here."
Currently in Bali, Indonesia's President Joko Widodo has said he will visit Aceh soon, but has not yet given a date.
Drone video shows damage and rescue effort following powerful Indonesia earthquake that's killed at least 100 people https://t.co/rLj4scXH5Gpic.twitter.com/WQjvDKQ5OL

— ABC News (@ABC) December 8, 2016