New era for Thailand as Crown Prince Maha becomes King
Comments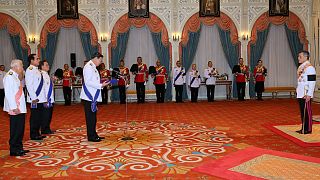 Fifty days after his father's death and at the invitation of parliament, the Crown Prince of Thailand Maha Vajiralongkorn, 64, was officially proclaimed the country's king on Thursday.
It puts an end to a period of uncertainty following the death aged 88 of King Bhumibol, the world's longest reigning monarch in October.
"I would like to accept the invitation… for the benefit of the Thai people," the new monarch said in a ceremony broadcast on television.
The late king was widely loved, deeply revered and regarded as a pillar of stability during decades of political turbulence in the Southeast Asian nation.
His son has yet to command that kind of adoration, having spent much of his adult life abroad.
But in Bangkok, people are already buying framed pictures of their new king who, like his father, is shielded from public criticism by laws which carry a penalty of up to 15 years in prison.
Governments across the world have congratulated new King Maha Vajiralongkorn, who will also be known as Rama X, or the 10th king of Thailand's Chakri Dynasty.
Deputy Spokesperson @Toner_Mark: Congratulations to #Thailand's new King, best wishes to the Thai people. https://t.co/E53YiVk4yR

— Department of State (@StateDept) 1 décembre 2016
#Thailand: FM #Steinmeier wishes new King Rama X much strength and success working for the well-being of the Thai people. #RamaX

— GermanForeignOffice (@GermanyDiplo) 1 décembre 2016