French President Hollande won't seek re-election in 2017
Comments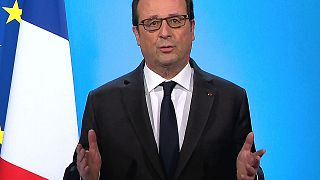 François Hollande, France's most unpopular president in polling history, said on Thursday that he would not be seeking a second term in 2017.
In an address on French television, the Socialist president defended his record since taking office in 2012 before announcing that he would not be seeking re-election.
He acknowledged that he would not be able to unite the deeply-divided left in France.
France's Hollande says he will not seek a second presidential term. More on what this means: https://t.co/FA7t5NM4AGpic.twitter.com/nhSPKqoZDu

— Reuters Top News (@Reuters) 1 décembre 2016
There has been tension between Hollande and his prime minister Manuel Valls, who is widely expected to throw his hat into the ring.
Ex-members of Hollande's government including pro-business former economy minister Emmanuel Macron have already said they will be running.
It is the first time in decades that an incumbent French president has not sought re-election.
The surprise move throws the selection of a Socialist candidate wide open, with US-style primaries due to be held in January.