Two Turkish soldiers go missing in Syria
Comments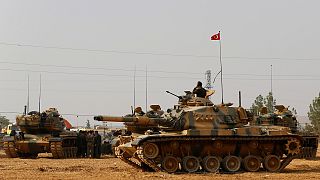 ISIL fighters claim to have captured two Turkish soldiers in northeren Syria. According to the jihadists' news agency Amaq the two were taken near the village of al-Bab. Turkey has only confirmed that contact with the men has been lost.
The Islamic State claims to capture two Turkish soldiers in Dana village west of al-Bab pic.twitter.com/f16ILGaSYX

— John Arterbury (@JohnArterbury) November 29, 2016
Turkey launched an incursion into northern Syria in August, sending tanks, fighter jets and special forces over the border. It aims to sweep ISIL from a roughly 90-km strip of the Syrian border and prevent Kurdish militia groups from seizing territory in their wake.
Since launching the ground offensive Turkey has become an increasing target for the militants.
The US meanwhile has admitted carrying out September's attack near Deir al-Zour which killed dozens of Syrian forces.
Pentagon spokesman Peter Cook blamed human error:
"This was a situation they had high confidence they were hitting ISIL and it turns out that was not the case – that they likely hit regime-aligned forces. But they had reason to believe they were hitting ISIL. A number of factors contributed to it, we're going to learn from that."
On the frontline in north eastern Aleppo, Syrian forces have been consolidating their recent gains having re-taken a large swathe of rebel-held territory.
Around 20,000 people are said to have been displaced in the past 48-hours.
Video on a Syrian military website purports to show some of them being received by government forces who are then later bussed out of the city.
We are deeply concerned about the impact of the fighting on the civilian population in #Aleppo, Syria. pic.twitter.com/oquqNez1dy

— UN Refugee Agency (@Refugees) November 29, 2016