Syrian army captures a third of rebel-held territory in east Aleppo
Comments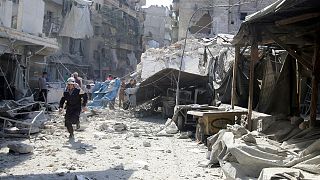 The Syrian army and its allies have captured a large swathe of eastern Aleppo in a rapid advance against opposition rebel positions.
Facing a combination of air bombardments and ground attacks, the insurgents have been driven out of numerous neighbourhoods in the northern part of eastern Aleppo.
The amount of territory taken by government forces amounts to a third of what was held by the rebels in the city and is reportedly their biggest defeat in Aleppo since 2012. US-backed Kurdish forces have also taken control of one area in an agreed handover with the rebels.
Thousands of residents of have been fleeing into areas controlled by government forces and Kurdish groups since the fighting intensified on Saturday.
Up to an estimated 10,000 people have fled into the Sheikh Maqsoud district. A large proportion of them are said to be children.
The UN has warned of a humanitarian disaster unfolding in eastern Aleppo with little or no food, medicines or shelters.
The advance by Syrian government forces follows two weeks of relentless aerial bombardment in a renewed assault on the rebel-held portion of Aleppo.
It comes after a three-week pause in the Russian and Syrian bombing of the area, which ended on November 15.
Retaking the whole of Aleppo, Syria's second largest city, is a key aim of the Syrian government. The east of Aleppo has been held by rebel factions opposed to President Bashar al-Assad for the past four years.