Donald Trump to leave business 'in total' to concentrate on running the US
Comments
By
Euronews
with
New York Times, Reuters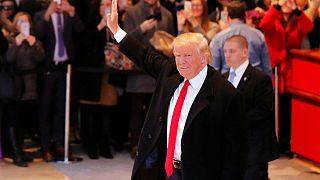 US President-Elect Donald Trump has announced he will hold a press conference with his family on December 15 to discuss leaving his business "in total" to focus on what he labelled "the far more important task" of running the country.
Hence, legal documents are being crafted which take me completely out of business operations. The Presidency is a far more important task!

— Donald J. Trump (@realDonaldTrump) November 30, 2016
Four for foreign policy?
Now the main question for many people centres around the coveted Secretary of State position. The future of US foreign policy has been narrowed down to a list of four potential candidates, according to a transition team spokesperson.
Mitt Romney is tipped to be in the running for the job. Formerly a critic of Trump, he sat down for dinner with the president-elect for a second time on Tuesday night (November 29).
Romney labelled Trump a 'phony' and a 'fraud' during the 2016 election campaign. He also ran for the presidency on the Republican ticket in 2012, but lost out to current President Barack Obama.
Foreign policy has been a thorn in the side of Trump's transition team. Doubts have been raised about bringing in the former Massachusetts governor. Some are pushing for long-time Trump supporter and former New York mayor Rudy Giuliani to be offered the position.
But, whatever the past, Romney was all smiles when he emerged from dinner with the president-elect at his golf club in New Jersey.
"I had a wonderful evening with President-Elect Donald Trump," he said. "We had another discussion about affairs throughout the world and these discussions I've had with him have been enlightening and interesting and engaging. I've enjoyed them very, very much."
Who else?
Former Goldman Sachs partner Steven Mnuchin said on Tuesday he had accepted the nomination to become the next Treasury Secretary.
The Wall Street veteran was the national finance chairman for Trump's election campaign.
Mnuchin, like the president-elect, has no direct government experience.
Billionaire investor Wilbur Ross said he had agreed to accept the role of Secretary of Commerce.
Trump's move to fill up his domestic policy team saw the appointment on Tuesday (November 29) of Elaine Chao as Transportation Secretary and Tom Price as the Minister of Health and Human Services.
'President-elect Donald J. Trump today announced his intent to nominate Steven Mnuchin, Wilbur Ross & Todd Ricketts'https://t.co/H3AOpCxplFpic.twitter.com/G9ToTxedjB

— Donald J. Trump (@realDonaldTrump) November 30, 2016