Black boxes are recovered from Colombia plane crash
Comments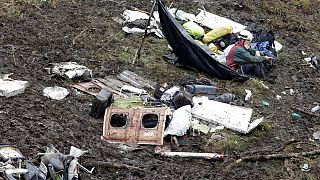 Thousands of grieving football fans have paid tribute to the Brazilian team which lost most of its players in a plane crash in Colombia.They filled the Chapecoense stadium in Brazil's remote south chanting the names of those who died.
The team had been flying to what was to be the biggest match in their history – the final of the Copa Sudamericana.
Their opponents, Colombian team Atletico Nacional, have offered to concede the game to ensure Chapecoense are declared the champions.
Opponent asks that title be awarded to #Chapecoense, the soccer team that perished in a tragic plane crash. https://t.co/FmKKqCzvM4

—

USA

TODAY

(@USATODAY) November 29, 2016
In a joint statement, Brazilian first division football teams have offered to lend players to Chapecoense free of charge, and asked the league to protect the club from relegation for the next three years.
Crash
The charter plane came down in a mountainous area as it approached Medellin airport after the pilot reported an electrical fault.
There have been other suggestions as to why the plane lost power – a possible lack of fuel. Bad weather may have played a part.
Colombian aviation officials have said both flight recorders have now been recovered.
Three Chapecoense players are among only six survivors of the crash. Seventy-one people died in the crash.
These are the players who didn't get on the plane, after they were told the plane crashed. #Chapecoense , so sorry.. pic.twitter.com/4YI2HEEy9P

— ᴛʀᴇʏ (@thebronxb) November 29, 2016