Theresa May and Beata Szydlo meet at 10 Downing Street as Britain seeks to strengthen ties with Poland before Brexit
Comments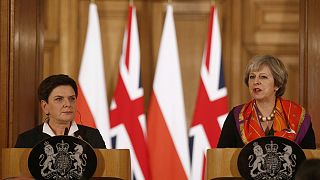 British Prime Minister Theresa May met her Polish counterpart Beata Szydlo at 10 Downing Street for a summit designed to strengthen the relationship between the two countries.
May, who has promised to trigger Article 50 of the Lisbon Treaty by the end of March, said that she wanted the United Kingdom and Poland to become "even closer allies" and welcomed Warsaw's "constructive and positive" response to Brexit.
"I've also reiterated my plan to guarantee the rights of Poles and other Europeans currently living in the UK, so long as the rights of British citizens living across the EU are guaranteed," announced the British Prime Minister. "And I hope we can reach an early agreement on this issue, providing certainty for Polish citizens here and British people living in Europe."
As Britain prepares to leave the European Union, Szydlo said the rights of its citizens living in the UK was Poland's top priority.
The two leaders also discussed their commitment to NATO with Theresa May confirming plans to deploy around 150 troops to Poland in April to deter Russian aggression.
Theresa May reveals 150 British troops to be deployed to Poland to 'deter Rus #Londonhttps://t.co/wn3i4tbIrtpic.twitter.com/Xu2tHZbxZ5

— londonuk (@london_uknews) November 28, 2016