Cubans queue to pay their respects to Fidel Castro
Comments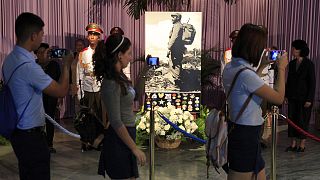 Tens of thousands of Cubans have queued to pay their respects to the former leader and father of the island nation's revolution, Fidel Castro.
It was the first public commemorative event during nine days of mourning declared after the 90-year-old's death on Friday.
The mourning period will end after his ashes are laid to rest on Sunday in Santiago de Cuba in the city's Santa Ifigenia cemetery.
Two of Fidel Castro's sons were among those who filed through Havana's Revolution Square.
Alex and Alexis were joined by friends and family.
Castro has a number of children with at least three different women.
Fidel Castro came to power in 1959 and ushered in a Communist revolution.
Supporters praise him for some of his social programmes, such as public health and education.
But critics call him a dictator, who led a government that is accused of numerous human rights abuses.
Outside the Cuban embassy in Washington several tributes were left. Given that Castro was not in office when he died ( he had ceded power to his brother Raul a decade earlier due to ill health) and the mixed feelings abroad over his legacy, it's not clear how many world leaders will attend his memorial.
So far it's mostly Latin American nations and close allies.
Fidel Castro funeral presents dilemma for world leaders https://t.co/2SBMNLoqUx

— Guardian US (@GuardianUS) November 28, 2016
Both Obama and Biden Will Skip Fidel Castro's Funeral https://t.co/2YBs4B6FS4pic.twitter.com/2b5LInWGsr

— Mediaite (@Mediaite) November 28, 2016
Jeremy Corbyn is to attend the funeral of Fidel Castro while senior Government figures are expected to stay away. pic.twitter.com/a1z043yj9l

— UK News (@UK__News) November 28, 2016