Thousands gather in Havana's Revolution Square as Cuba bids farewell to Fidel Castro
Comments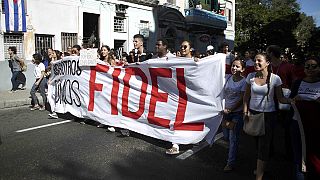 A 21-gun salute echoed across the Havana, as thousands of Cubans started gathering in Revolution Square to bid farewell to Fidel Castro.
People began queuing up as early as 4 a.m. to be at the head of one of three lines of mourners entering a square that has been central to Cuba's recent history and where the revolutionary leader gave many of his speeches.
El Comandante's death marks the end of an era and has added to worries among Cubans that Donald Trump will undo two years of dialogue between the two countries. The U.S. President-Elect has struck a very different tone from Barack Obama, who reached an agreement in 2014 with Castro's younger brother President Raul Castro to end half a century of hostilities.
The ceremony in the capital will end on Tuesday night when foreign leaders are expected to pay their respects.
Fidel Castro addresses a crowd during an event at Revolution Square in Havana Cuba. pic.twitter.com/LGTumIvjAH

— allan crawshaw (@allan_crawshaw) November 26, 2016