Hack means San Francisco travels for free
Comments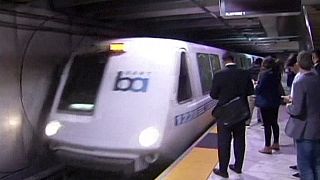 Commuters in the San Francisco Bay area were able to travel for free after hackers hit the network.
A ransom demand of 100 Bitcoin – 70,000 US dollars or 66,000 euros, was made.
As a precaution, ticketing machines across the entire Bay Area Rapid Transport network were switched off.
Computers across the transport network were disabled. Screens displayed a message from the attackers.
The system has been restored by software engineers.
The BART service is used for more than 400,000 rides a day.