Cubans prepare for Castro homage
Comments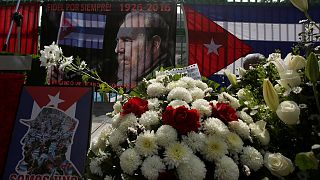 Preparations have begun across Cuba for citizens to pay homage to Fidel Castro, the former leader held in high-esteem by much of the island nations population.
Beginning on Monday there will be an event held at the Josi Marti Memorial in Havana where residents can pay their respects, followed by a mass gathering on Tuesday in Revolution Square where Castro once addressed crowds of thousands.
The revolutionary leader's ashes will embark on a country-wide tour on Wednesday, from the capital to Santiago, where on Sunday he will be interred at the Cementerio Santa Ifigenia.
The 'Ladies in White' – an opposition movement in Cuba founded in 2003 by wives and other female relatives of jailed dissidents – cancelled their weekly rally in Cuba to "respect the pain, which we don't share".
Cuba has been in a state of national mourning since the announcement of Castro's death on Friday night.