Students grieve death of former Havana University alumnus Castro
Comments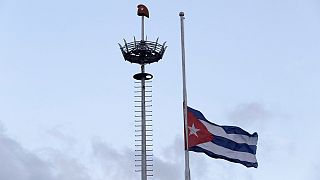 As Cuba begins nine days of national mourning, students at the University of Havana, where Fidel Castro studied before becoming one of the world's most notorious revolutionaries, vowed to maintain his vision.
Even though he is dead, he will always be our commander.
Castro's death made for sombre scenes outside his former university, where the Cuban flag was at half-mast and students gathered in homage to the leader.
Students from the Havana University met in front of the Alma Mater to pay homage to the leader of the Cuban Revolution #FidelCastropic.twitter.com/YBWBrygFCK

— Ergo2Tweet (@Ergo2Tweet) 26 November 2016
One student said that he had faith that Castro's vision would live on, noting that "thanks to [Castro's] example and the generation of Granma and the 26th of July movement" his legacy will not be forgotten.
Castro studied law at the University of Havana, where he became embroiled in student activism.
University of Havana mourns former student and Cuban leader Fidel Castro (PHOTOS) https://t.co/Xbede9FMB6pic.twitter.com/f1pyMlwaI8

— Clive Altair (@CliveAltair) 26 November 2016
The news has affected young and old alike. In a country that has seen decades of division, many Cubans have been united in grief.
Older supporters of Castro began mourning inside their home, with one Havana resident saying: "Even though he is dead, he will always be our commander."