Paris prosecutor claims terror attack on capital prevented
Comments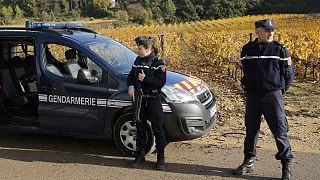 The Paris Prosecutor claimed on Friday that a terror attack planned for next Thursday has been prevented.
An imminent attack was thwarted

Paris Prosecutor
François Molins said five suspects have been arrested on suspicion of planning attacks on police and other security targets in and around France's capital.
Automatic weapons were found after raids in Strasbourg and Marseille the police said.
And two of the four arrested in Strasbourg had travelled to Syria, they added.
Earlier this week the authorities said Disneyland Paris theme park and the Champs Elysees were also potential targets.
Molins said the arrested men were being directed remotely by Islamic State in Iraq and Syria.
"A Strasbourg commando team, and also a man arrested in Marseille, were given instructions to acquire arms. The weapons were going to be used to create public disorder, through intimidation or terror on French soil on behalf of the terrorist organisation Daesh," Molins told reporters.
Hand-written documents pledging allegiance to Islamic State and glorifying martyrdom were found at a house in Strasbourg, eastern France, Molins said.
Two of the five suspects had travelled to the Turkey-Syria border via Cyprus in March 2015, he said. Four of the men are French, while a fifth is Moroccan.
The claims come just before a vote on Sunday for a centre-right candidate for next year's presidential election.
President Francois Hollande, who's said he'd like to run for the presidency again, is under great pressure to improve security.
"In November alone, 43 individuals have been arrested by the anti terrorist services, of which 28 have been handed over to the judiciary," Hollande said.
France is already under a state of emergency after the Paris attacks by Islamic militants in November last year killed 130 people.