Greece: migrants set fire to Lesbos refugee camp after two die in gas blast
Comments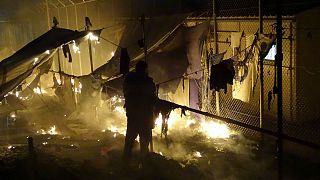 A woman and a child are said to have died in an explosion at the Moria refugee camp on the Greek island of Lesbos.
Reports speak of others including children having been injured.
According to local police quoted by AFP, the blast was caused by gas as the woman was cooking.
Migrants are said to have started a fire after the explosion, burning a large part of the camp.
The past few months have seen several incidents at refugee camps on Greek islands, where the number of migrants is more than double their capacity.